Dental Crowns & Dental Bridges in North Shore, IL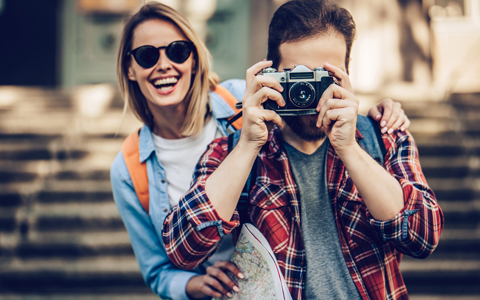 Teeth are susceptible to disease, decay, and damage, just like any other part of your body. Going through life with gaps in your smile isn't how we want you to live. You should have a radiant, whole smile that inspires personal confidence.
With our tooth protection treatments, including dental crowns, same-day crowns, and dental bridges at Mantis Dentistry & Implant center in Wilmette, you can enjoy a fully restored, beautiful smile. Learn more about how we can help restore your damaged or missing teeth below.
Benefits of Dental Crowns in Wilmette, IL
A dental crown, also known as a tooth crown or tooth cap, is a type of dental restoration designed to cover a tooth or dental implant. You will enjoy the following benefits when you choose to come to us for a tooth crown placement:
Reduced Pain and Discomfort: Cracked, broken, or damaged teeth can cause a lot of pain in your mouth. A dental crown will change that—taking your pain away and protecting your damaged tooth at the same time.
Simple Procedure: We start with a foundational prep, get a molding of your tooth, manufacture the model, and place it. That's it!
Improved Bite: Chewing with a broken or cracked tooth is detrimental to your surrounding teeth. A tooth cap restores your ability to chew properly and removes any added strain placed on the rest of your teeth.
A Smile to Share: You'll be outfitted with a tooth crown that looks, feels, and functions like a regular tooth. What's not to smile about?
Lasting Dental Health: Our dental crowns are made to last you years so you can enjoy your complete, beautiful smile with no fears or concerns about needing to replace your dental crown anytime soon.
With all these benefits of dental crowns, your damaged smile can be happy and healthy once again!
"I've been seeing Dino for years. The staff are always friendly, the office and rooms are comfortable, they invest in the latest technology (just got my "no touch" X-rays recently with none of those painful inserts to chomp on), and when I've needed fillings and crowns I can count on Dino's hands to leave my teeth and bite feeling just right."
---
CEREC Same-Day Tooth Crowns
Traditionally, making a tooth crown and placing it required multiple appointments with your dentist. This is not the case with our practice. When you decide to have a tooth crown placed, you can enjoy the benefits of CEREC same-day crowns.
Our CEREC machine is in-office and ready to be used to create the perfect tooth cap for you. With the use of this advanced dental technology we cut down the process of placing a dental crown significantly; enjoy same-day crowns instead of waiting days or weeks for your tooth to be protected and restored.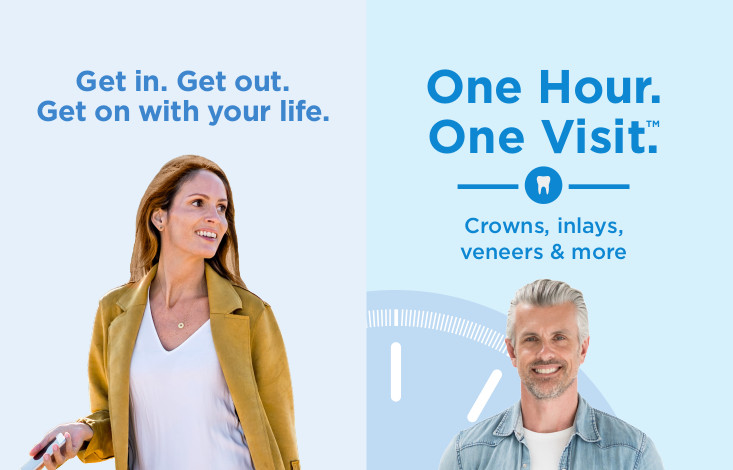 When and Why Are Tooth Caps Needed?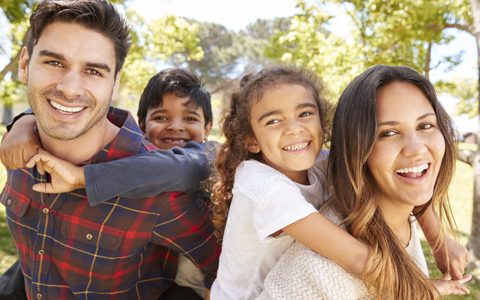 Tooth caps become a good option to consider when a tooth might break, when a tooth has broken, or when a tooth has been severely worn down. Crowns are a great option to consider in place of removing a tooth entirely.
If we can preserve and protect any part of your damaged tooth, we will suggest dental crowns every time. With the proper care and treatment of your dental crown, you can enjoy its protection for years.
Dental Bridges near Evanston, IL
In the case that your tooth or multiple teeth need to be removed, our office offers dental bridges. A dental bridge is a fixed dental restoration used to replace multiple missing teeth. They are attached to the real teeth they are placed next to.
Just like with dental crowns, your dental bridge will look just like your natural teeth, be able to provide you with a complete smile and restore your ability to use your teeth to communicate, eat, and smile with ease.
Schedule a Dental Crown or Bridge Appointment in Wilmette!
If you think you might need a dental crown or dental bridge, please make an appointment to see us right away. We are happy to provide CEREC same-day crowns to give you treatment as soon as possible. The sooner we can help you protect any vulnerable teeth, the sooner we can get you the beautiful smile you deserve.
Related Content
<!—JSON Video Schema -->