If you didn't get a chance to straighten your teeth as a child, it's not too late. Learn about using Invisalign for adults.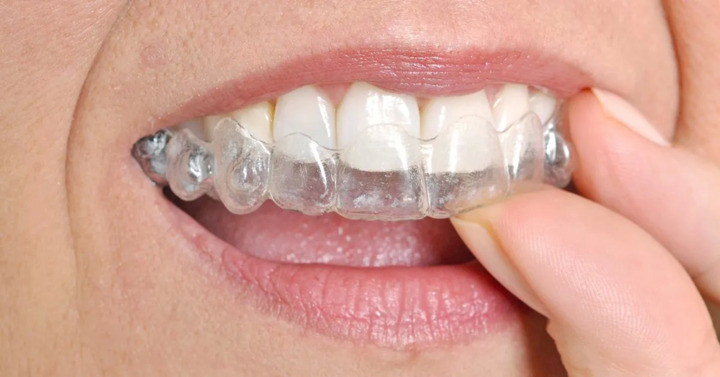 Are you feeling discomfort when biting or chewing your food? Do you rarely smile because of your crooked teeth? Do you feel that wearing braces is not for you?
These are some of the valid concerns of people who need some orthodontic help. If you feel that it is too late for you to straighten your misaligned teeth, then you better reconsider.
Survey results show that a person's dental condition affects professional appearance. This means people who carry beautiful smiles appear more intelligent and successful.
Thankfully, there are dental products like Invisalign for adults. It is a dental device that works like braces, but more added benefits.
Check out our list below to see why you should seriously consider Invisalign.
Invisalign for Adults: The Key Benefits
Let's take a look at some of the key benefits you can enjoy if you invest in Invisalign.
1. Virtually Invisible
As its name suggests, Invisalign is like a set of invisible braces for adults. Unlike traditional braces, Invisalign trays are clear. This is perfect for people who are shy about wearing metal braces.
Professionals who regularly meet with different people gain more confidence with their smiles. No longer will you have to worry about brackets and wires that come with traditional braces.
2. Comfort and Flexibility
Since the Invisalign device is smooth plastic, it offers a new level of comfort that traditional braces can never give. It doesn't come with any sharp edges that cause discomfort when speaking. It doesn't have extruding edges that may affect your chewing.
Even if you are someone who is into sports, you don't need to worry. You can wear your Invisalign during activities that require you to move a lot. You can also play wind instruments like flutes without taking your Invisalign off.
If you wish to give your mouth a breather, you remove the Invisalign anytime. Take note that you can only remove them for a maximum of two hours daily.
3. No Food Restrictions
You can say goodbye to food restrictions. If braces don't allow you to eat certain types of food, Invisalign lets you eat anything you want.
You can simply remove the Invisalign tray if you wish to eat sticky or chewy food.
4. Saves More Time
Unlike braces that require you to visit your dentist frequently for maintenance, Invisalign lessens your visits on the dental chair.
Generally, Invisalign maintenance takes place once every six weeks. This saves you more time that you can spend doing other important things. That's another reason why it is one of the most popular orthodontic services today.
5. Easy Cleaning
Brushing your teeth is also a breeze. Simply take off the Invisalign trays if you wish to brush your teeth. As for the trays, you can also rinse of brush them.
Make sure to remove any buildup on the trays before popping them back on your teeth.
6. Custom-made
Regardless of the shape of your teeth, Invisalign can fit right into them. It is a special kind of plastic that is customizable.
This means that your orthodontist can fashion the Invisalign to make it fit your teeth perfectly. He can also make real-time adjustments if need be.
7. Whitening is a Go
If you wish to use special whitening toothpaste, you may do so with the Invisalign. Unlike traditional braces that you cannot take off, you can simply remove the trays and apply your teeth whitening solution.
8. Gets the Job Done
Lastly, Invisalign is not all about looking good, it also gets the job done. It is effective for people who wish to straighten their teeth.
It works not only for adults but also for younger people. Interestingly, over 1 million teens from different parts of the world use Invisalign.
Tips in Choosing the Right Invisalign Orthodontist
Before making the decision to use Invisalign, you need to find the right orthodontist first. Check out our tips that will guide you toward the right provider.
1. Experience and Tenure
The first thing to consider is the experience of the orthodontist. Find out how many years the orthodontist is in the practice. It is best to go for someone who is in dental practice for more than a decade.
Find out if the orthodontist engages in continuing education. The dental industry involves new techniques and discoveries. You need to find an Invisalign orthodontist who is adept with the latest in the dental world.
Check out his educational background and the different dental education institutions he attended.
2. Reviews Matter
You also need to see what the patients of the dental office have to say. Check out the online reviews before making any decision. Find out if the previous and current patients are happy with the orthodontist's service.
You can start by looking at reviews in Google Reviews and Yelp. If you have time, you can also talk to friends and relatives. Ask them for their opinion on their Invisalign orthodontist.
3. Visit the Office
Visit two or three dental offices in your area that offer Invisalign. Is the office clean? Do they use state-of-the-art equipment?
How is the staff? Are they accommodating to new patients? Are they able to answer all of your inquiries?
These are some of the things you should answer before making your final choice.
4. Invisalign Experience
Lastly, you need to get details on their Invisalign experience. Ask how many years since they started offering the service. Find out how many Invisalign cases they completed in the past.
You can also try asking for pictures of some of their previous Invisalign works. Ask for some "before and after" mages, if possible.
Let's Straighten Your Teeth, Today!
If you are looking to fix your crooked teeth, our dental office is more than willing to get it done for you. We offer quality Invisalign for adults and teens alike.
We encourage you to contact us today and send in your questions. You can also book an appointment so we can take a look at how we can help improve your teeth.
Let's bring back that smile on your face, today!